Arch Interim Housing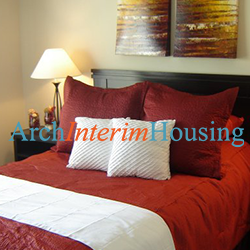 897 Fee Fee Road St. Louis, Missouri, 63043
(636) 946-5888
Are you the Business Owner?
About Us
Arch Interm Housing provides St Louis corporate housing accommodations for corporate executives staying in St. Louis. Our beautifully furnished corporate apartment homes and temporary housing will make you feel right at home in St Louis.

Furnished Apartments and Corporate Housing in St Louis, MO. Arch Interim Housing provides St Louis corporate housing and furnished apartments for corporate executives, students, government personnel, and others who are looking for temporary housing in St Louis, MO while on a short-term stay. When you stay with Arch, you don't have to stress about packing houseware necessities. Our fully-furnished apartments include bedroom, bathroom, living room and kitchen home goods, a 37" flat HD ready TV, Cable TV, DVD Player, local phone service, and if you feel you'll need anything else, we will do our absolute best to get it for you!

Whether you're spending an extended stay in St Louis for just 30 days or six months, you can rest assured that you will feel at home in one of Arch Interim Housing's corporate housing apartments. We own all of our housewares and by cutting out the third party rental company we're able to save guests up to 60% off typical hotel costs. Not only do you save money when you stay in a corporate apartment from Arch, but you're also able to spend your extended stay in a furnished apartment that's twice the size of a hotel room in a corporate housing complex that features superior amenities including tranquil waterscapes, resort-style pools, coffee bars, 24-hour fitness centers, hiking trails, walk-in closets, garage parking, fireplaces, washer & dryer in units, tennis courts, movie theatres, and more.

At Arch Interim Housing our goal is simple; we want our guests to feel comfortable in their home away from home. That's why we offer over 30 corporate housing locations to choose from in the most desirable areas of St Louis. Our corporate apartment complexes are located near major highways making them ideal for corporate travelers on the go in St Louis. When you stay at one of our St Louis corporate housing locations you can be sure you'll find excitement by participating in lively daytime and nighttime activities, dining at some of St Louis' best restaurants, and shopping at local boutiques.
Emails
:info@archinterimhousing.com
Payment Options
American Express
Cash
Check
Discover
Invoice
MasterCard
Visa
Exact URL of this page (Permalink):


Helpful Tip for: Apartment & Home Rental
Apartment and homes are available for rental in . Rentals are properties that are taken for a specified monthly charge, or a lease. These are usually covered by a contract. The charges would vary depending on the neighborhood, the area of the property, its age and other factors. Rentals are cheaper and a more convenient choice for many people, especially if one has to frequently move for personal or professional reasons.
Recent News:


Japan Running Out of 11-Digit Phone Numbers as Country Embraces "Internet of ...
Chris Boyle NEW YORK - The communications ministry of Japan has reacted to fears that the country will run out of 11-digit telephone numbers by 2022 by approving the creation of 10 billion 14-digit phone numbers, a move that has already been approved by the county's three major mobile device carriers. The new numbers, according to reports, should be introduced by the end of 2021.  The rapid adoption of "Internet of Things" devices, which require their own contact phone numbers in Japan, has done a great ...

Americans Top Environmental Concern? It's Their Drinking Water
Chris Boyle NEW YORK - As far as the environment is concerned, there are a number of factors that people should be worrying about these days, from climate change to micro-plastics to poisons infiltrating the very air we breathe, in addition to a whole host of other vile maladies that can be harmful to our collective health. But with all of that to choose from, a recent study has shown that one issue rises above all else in the minds of most Americans when it comes to their personal environmental concerns...

Earth Day 2019 Has Come and Gone, but Here's some Green Living Tips to Help C...
Chris Boyle NEW YORK - Monday, April 22 was Earth Day, a holiday that was created 49 years ago in order to remind the world how their actions affect the environment, and how we all should be collectively taking steps to reduce our carbon footprint upon the planet in order to ensure the health and well-being of future generations. In this day and age of differing political and social opinions on just about everything, helping to save our environment is certainly a cause everyone can get behind, and to mak...

Scientists Conducting Research into Fluorinated Pollutants Known As PFAs
Chris Boyle NEW YORK - Scientists have been placing a growing emphasis on a series of commonly-found – but until recently misunderstood – chemicals typically utilized in the creation of consumer products such as water-resistant clothing, stain-resistant furniture, nonstick cookware, and more, focusing mainly on their intrusion into the environment and the subsequent potential health risks to human beings. Perfluoroalkyl and polyfluoroalkyl are perfluorinated chemicals – or PFAs for short – were created i...